HANMERO Recruits Global Agents for High-end Wallpaper Series
Are you tired of traditional wallpaper design and style?
In order to provide better support and bring your home stylish and luxury look ,HANMERO launches high-end noble wallpaper series with unique technology and pure eco-friendly materials.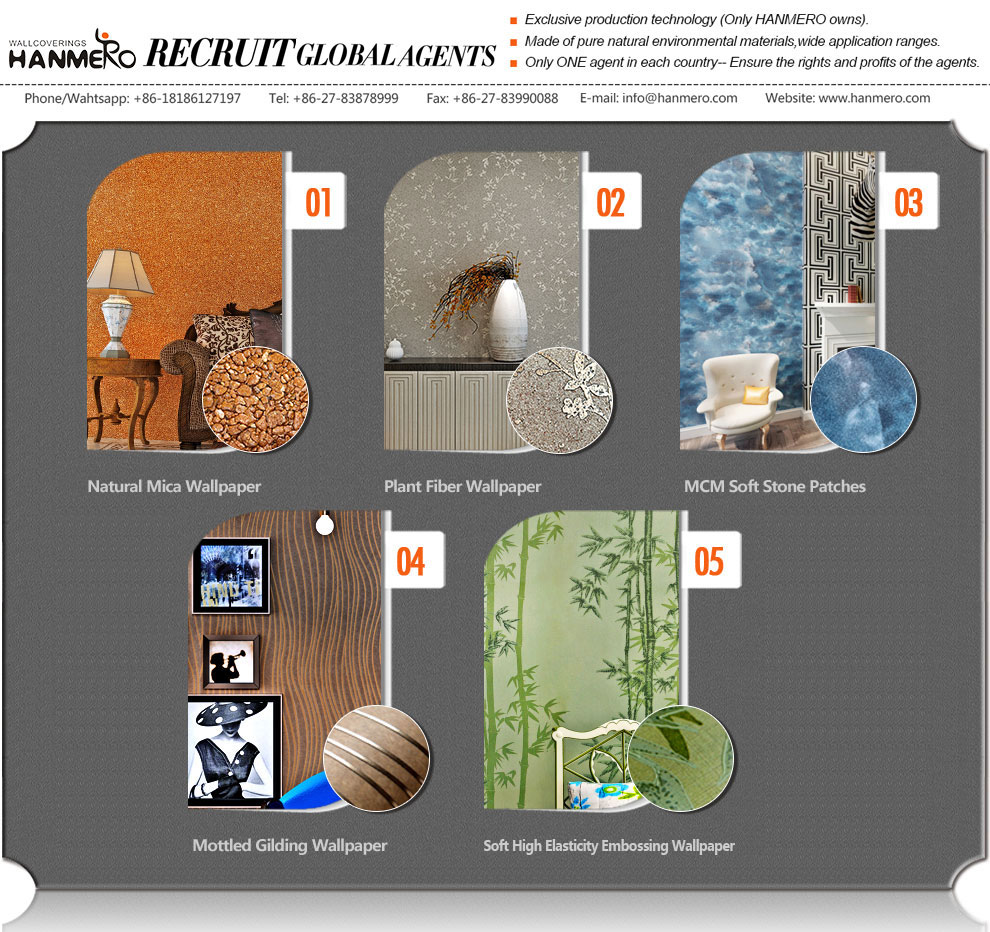 1.Natural Mica Wallpaper:
Pure natural mica wallpaper reflects the beauty and the harmony of the original ecological material with fireproof and flame retartant performance.


2.Plant Fiber Wallpaper:
High temperature homogeneous carbonization process makes the surface different color effects with good heat insulation performance.


3.MCM Soft Stone Patches:
It is a natural modified mineral powder(MCM) as the main raw material,and natural green plant fiber is as a polymeter reinforced materials with excellent waterproof and flame-retardant function.


4.Mottled Gilding Wallpaper:
It is produced by our self-developed unique technology with clear line texture,supple feeling and elegant ,gorgeous style.
5.High Elasticity Embossing Wallpaper:
The process is based on rotary screen printing and coating printing with pure handmade craft technology.More naturally formed texture effects,more 3D and multi-level.


Here HANMERO recruits agents for these high-end series from the global.One agent in one country to ensure the profits and rights of the agents.At the same time,we will give the agents more support,like prices privilege,technology support etc.
Want to be our agent?
Please freely contact us more cooperation details.



HANMERO WALLPAPER

Tel: +86-27-83878999
Fax: +86-27-83990088
Email: info@hanmero.com
Website: www.hanmero.com
Add: No.63, International Business Summit Park, Nanniwan Road,Qiaokou District, Wuhan, Hubei, China