Hanmero Light Weight Composite Sandwich Panel is an energy-saving, lightweight composite board that is made by combining fiber-reinforced calcium silicate board or cement calcium silicate board as the surface panel with fillers such as cement, EPS, ceramsite, perlite, sand, or fly ash. This product can replace building materials such as red brick, clay solid brick, air brick, color-coated steel sandwich panel, gypsum block, wire spatial grid structure perlite board, perlite porous board, and more. It can be widely used in various high and low buildings such as banks, office buildings, hospitals, schools, etc.
Specification
Name
Size (L×W×T) (mm)
Weight (kg/㎡)
Packing (pcs/ ㎡per 20'GP)
Application
Hanmero Light Weight Composite Sandwich Panel
2270x610x60
45~48
315 pcs/436㎡
Roof
2270x610x75
50~53
252 pcs/349㎡
Interior wall
2270x610x90
55~58
207 pcs/287㎡
Interior/Exterior wall
2270x610x100
60~65
189 pcs/262㎡
Interior/Exterior wall
2270x610x120
65~75
153 pcs/212㎡
Exterior wall
2270x610x150
80~90
126 pcs/175㎡
Exterior wall

Remark: AlI kinds of panels can be customized by customers' specific requirements, such as density and length of panel.
Allowed Tolerance(mm): Length士5 Width士5 Thickness士5 Diagonal士5
Applications
Exterior Walls, Interior Partition Walls, Roof System, Floor System, Prefabricated Houses, Residential Buildings, Industrial Buildings, Commercial Buildings.

Advantages
1. Energy-saving, environmentally friendly
Green and environmentally friendly, non-toxic, non-radiative, reusable, and can be used in various places.
2. Lightweight and economical
The core material of EPS cement exterior wall panels is filled with lightweight EPS. The volume weight is about 600-800 kg/m3. It can be freely plastered, and the weight is only 1/6 of traditional walls.
3. Fireproof
Hanmero board has reached national A-level standard for non-flammability. It can maintain its fireproof feature for up to four hours at high temperatures of 1000 degrees Celsius, without radiating toxic gases.
4. Pressure, earthquake, and impact-resistant
Due to its fabricated construction, 3-in-1 structure, and the use of tongue and groove to join panels, it meets national standards for pressure, earthquake, and impact resistance.
5. Sound insulation
It has good sound insulation, sound absorption, and noise reduction functions. For example, the amount of sound insulation can reach 40dB with a 90mm thick wall board, which is 2-3 times higher than that of traditional walls.
6. Simple construction, high efficiency
Dry construction, fabricated construction. EPS cement sandwich panels can be cut to any size. During construction, transportation and stacking are simple, with no need for mortar. This greatly reduces the construction time and material calibration, reducing construction waste. The low loss rate can also reduce construction waste
7. Heat preservation
Wall materials are mainly made of environmentally friendly and energy-saving insulation materials. With good heat insulation and preservation functions, it can maintain a stable indoor temperature, making the environment more comfortable.
8. Spike and adhesion
EPS cement sandwich panels can be nailed directly, and expansion bolts can be used to hang heavy loads, such as TVs, air conditioners, and water heaters. The single point hanging strength is above 45kg.
9. Easy to decorate
It can be decorated with ceramic tiles, wallpaper, wood panels, and other materials due to its smooth and ash-free features.
10. Increased usable area
The board thickness ranges from 50mm to 200mm. This saves a lot of construction space compared to traditional blocks.
11. Reusable
It can be reused in movable interior walls, such as in supermarkets and offices. The lightweight energy-saving wallboard can be reused. Disassembly and installation are simple, improving usage rate and saving money. It has no construction waste and does not affect other people's normal work.
1.Installation accessories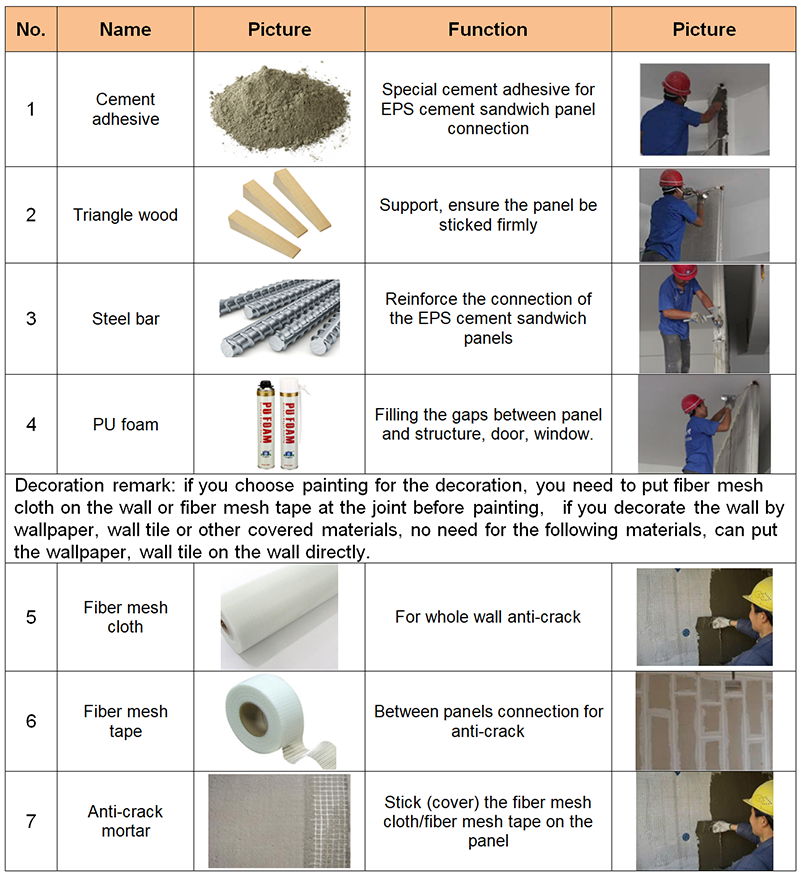 2.Installation Tools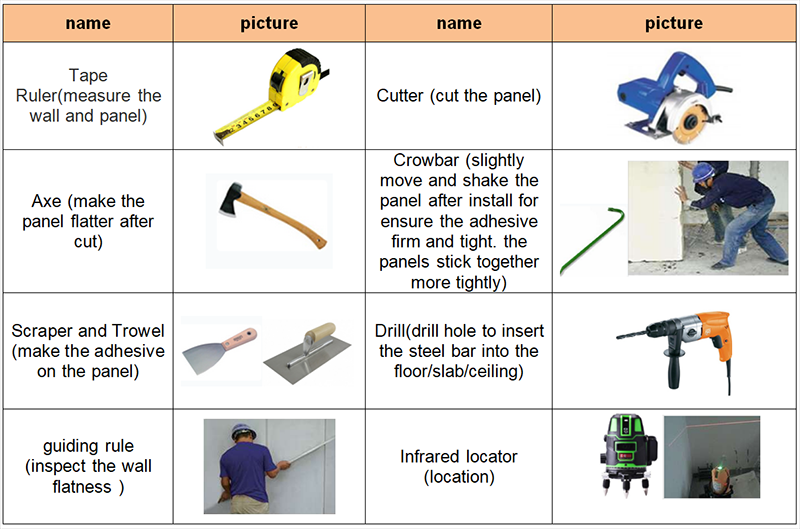 3.Installation Process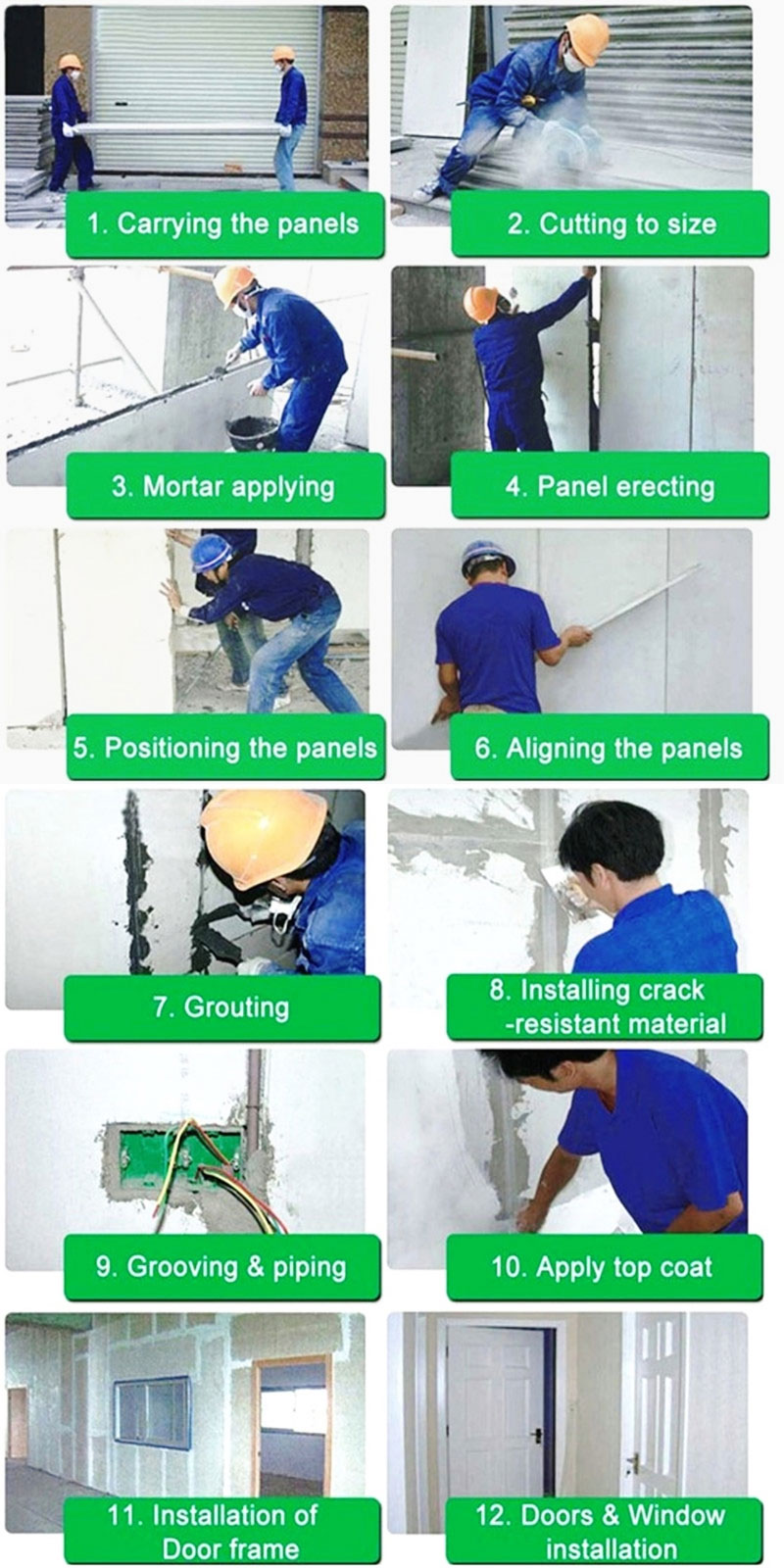 Wuhan Hanmero Building Materials Co., Ltd. is a high-tech enterprise specializing in the design, research, development, production, and export of eco-friendly building materials, including wallpapers, custom murals, light weight composite sandwich panel, flexible tiles and related accessories, and ecological energy-saving integrated houses. Established in 2009, the company has its headquarters located in Wuhan City, the hub of nine provinces, with a production base in Hubei Jingshan Economic Development Zone that benefits from convenient transportation.
The company has a professional R&D team, and has collaborated with domestic universities such as Wuhan University of Science and Technology, Wuhan Institute of Technology, and Hubei University, to form a perfect management and R&D system. The company holds 28 international trademarks, 12 national patents, and has published 38 papers in professional journals, making it an international leader in the field of building materials.
At Hanmero, design, environmental protection, and quality are the three core concepts. The company is dedicated to serving customers wholeheartedly and promoting eco-friendly and energy-saving products and technologies in both the Chinese and international markets. Hanmero's unique technology and design, integrated with the concept of green ecology, are widely used in the decoration of homes, hotels, offices, schools, and office buildings.
FAQ
Q1: How long will it take for you to deliver the goods?
A1: Normally, we can deliver the order within 15-25 days after receiving the deposit payment. For urgent orders, we can speed up the production to meet the client's requirements. For large orders, we can discuss the delivery time further.
Q2: Can you provide samples for testing?
A2: Yes, of course. We can provide free small samples of the required thickness.
Q3: Do you have any certificates or qualifications?
A3: Yes, we have obtained CE & ISO certificates, as well as a full set of wall panel performance testing reports, including thermal insulation, soundproofing, strength testing, and fireproofing (our sandwich panel can withstand temperatures of up to 1000℃ for more than 4 hours).
Q4: What are the disadvantages of your sandwich panel?
A4: Our panel is a non-load bearing wall panel, so when building several floors or high-rise buildings, it must be combined with a steel structure or concrete structure.
Q5: Will the panel be damaged by climate change over time?
A5: Our panel will not be damaged by climate change or insects. However, for buildings with more than 2 stories or high-rise buildings, this panel needs to be combined with steel or concrete structures. The lifespan of the panel is about 50-70 years.
Q6: How do you guarantee the quality of your products, and is there a warranty available for the products we order?
A6: The physical properties of this panel will not change over time. Generally speaking, it may be damaged during transport, improper use, or man-made damage.
Q7: What is your recommendation for usage (for what kind of construction can each panel be used according to the thickness)?
A7: Roof: 60mm panel
Interior Wall: 60mm, 75mm, 90mm, 100mm
Exterior Wall: 100mm, 120mm, 150mm, etc.
(Note: this is only for reference. Different clients may have different requirements and practices.)
Q8: What is the thickness of the calcium silicate board independently?
A8: The thickness of the face board (calcium silicate board or fiber cement board) is about 4.5mm-5mm.